Adult Training Facilities
SUNCOM's Adult Training Facilities / Alternatives to Work Program provides training on appropriate social behavior, recreational and leisure skills, develops peer relationships, and promotes community awareness and involvement.
This program encourages participants to become as independent as possible in all aspects of their daily living skills, which enhances their quality of life.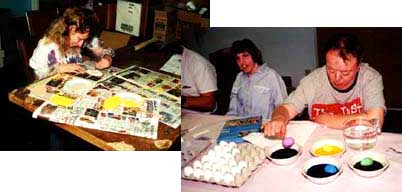 Getting Out & About
SUNCOM's Adult Training Facilities also has an Alternative to Work program that allows the participants to get out and about the area to learn more about thier surroundings.
Click on the photos for a larger image.
SUNCOM has three locations that offer adult training:
Coal Township Adult Training Facility
1401 West Montgomery St.
Coal Township, Pa. 17866
(570) 648-5027
Bloomsburg Adult Training Facility
164 West Ninth Street
Bloomsburg, Pa. 17815
(570) 387-0830
Alternatives To Work Program
404 Susquhanna Trail
Northumberland, Pa. 17857
(570) 473-1770