Vocational Rehab
The Vocational Rehabilitation Department is a comprehensive program that utilizes a number of rehabilitation devices and techniques to determine the vocational potential of referred individuals.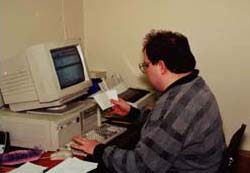 Steps to Success
The first step to success begins with Personal Work Adjustment (PWAT). We develop the necessary job-related skills and work habits for competitive employment on an individual basis.
Then SUNCOM Vocational Rehabilitation Counselors work with each individual to create an Individualized Written Rehabilitation Program Plan which addresses their specific needs.
Our counselors work hard to offer the highest quality services to the individuals enrolled in the vocational program. They design programming that encourages participants to reach the highest attainable level of vocational development, competitive employment.
Our success is measured by the success of the individuals we help.