Community Integrated Employment Services (CIES)
The CEIS Program provides career development and employment support to individuals with varying levels of ability. The goal of this program is to enable individuals to become productive members of the work force and help them build rewarding and productive lives.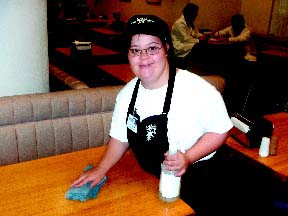 CIES places individuals in part time and full time jobs in businesses throughout Columbia, Montour, Snyder, Union and Northumberland Counties.
SUNCOM employment specialists work directly with businesses to make an appropriate job match between employer needs and our referral pool. Intensive support is provided throughout the employee's learning period. As the employee begins to master essential job functions, an agreed upon systematic fading plan begins and continues as all job duties are performed to the employer's standards.
SUNCOM Spotlight - Ed C.
One of the great success stories of the CIES program is the story of Ed C. Ed was born with mild mental retardation, psychosis anxiety disorder and Tourette's Syndrome. Learn More >>